Animal instinct says this pet food is better.
Science agrees.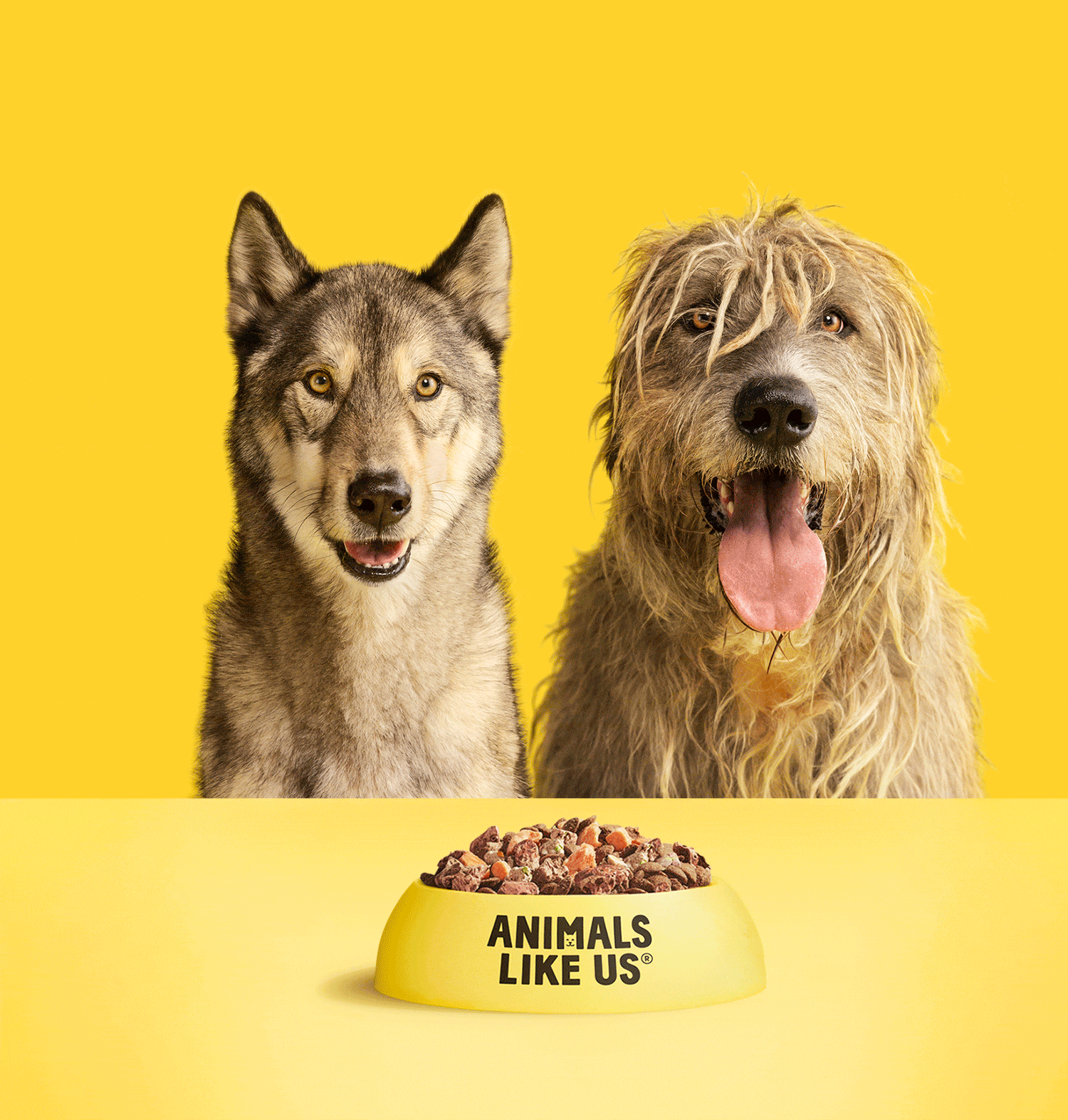 Your pal is designed by nature to need natural raw protein for energy and strength.
But serving up raw doesn't have to be messy and time consuming, because we've made it easy.
Animals Like Us is high protein meat and vegetable baked biscuits, supercharged with chunks of premium, freeze-dried raw meat and organs. Your pet will love the added raw taste and raw digestibility. After all, it is what they are meant to eat.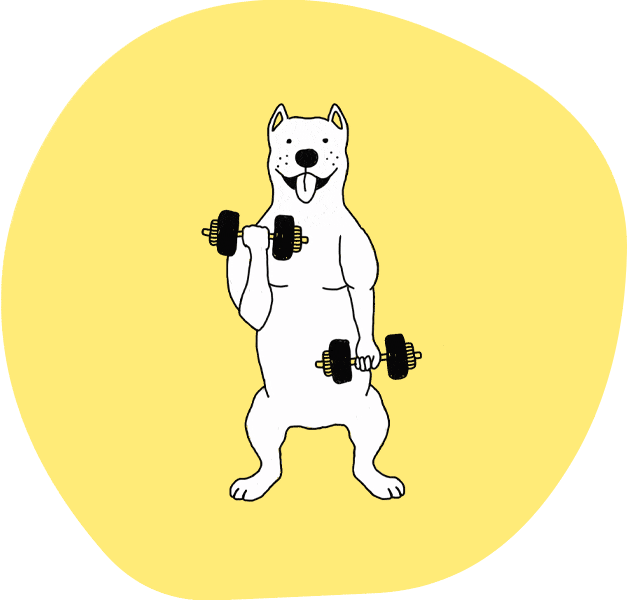 Not all protein is equal.
It's scientifically proven that protein absorption from raw protein is significantly higher than processed protein found in cooked or canned diets.1
Combine that with naturally higher protein levels in raw diets and you have a supercharged effect. More protein, working harder for your dog.
Our chunks of freeze-dried raw ingredients have locked in those super protein structures, delivering a powerful boost in every bowl.
1. Buff, P., Carter, R., Bauer, J. & Kersey, J. Natural pet food: A review of natural diets and their impact on canine and feline physiology. Journal of animal science 92, doi:10.2527/jas.2014-7789 (2014).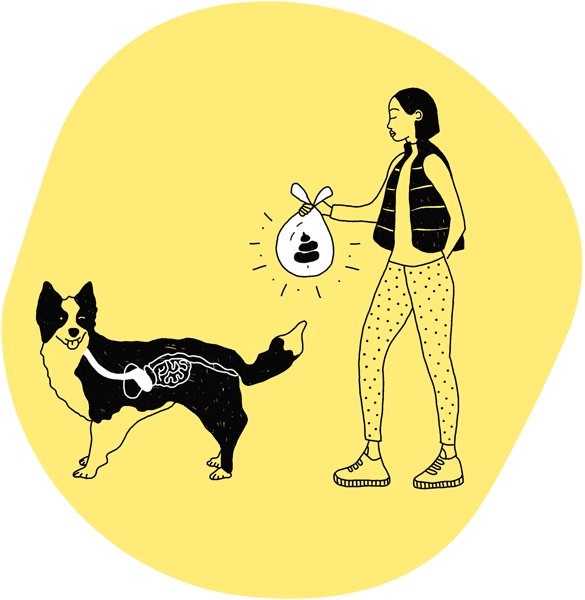 It's good news for healthy poos!
Conventional heat processing of pet food reduces the availability of proteins and amino acids such as lysine.1 This makes it harder for your pal to digest and absorb.
In contrast, freeze-dried raw preserves these links and helps your pal digest more of the nutrition in their food.
Because they've absorbed more nutrition, there's less out the other end. Meaning smaller, less smelly poos for you!2
1. Van Rooijen, C. et al. The Maillard reaction and pet food processing: effects on nutritive value and pet health. Nutrition Research Reviews 26, 130-148, doi:10.1017/s0954422413000103 (2013).
2. Vester, B. M. et al. Influence of feeding raw or extruded feline diets on nutrient digestibility and nitrogen metabolism of African wildcats (Felis lybica). Zoo Biology 29, 676-686, doi:10.1002/zoo.20305 (2010).
Freeman, L. M., Chandler, M. L., Hamper, B. A. & Weeth, L. P. Current knowledge about the risks and benefits of raw meat–based diets for dogs and cats. Journal of the American Veterinary Medical Association 243, 1549-1558, doi:10.2460/javma.243.11.1549 (2013).
Dogs crave raw meat.
Dogs are naturally drawn to food with high concentrations of proteins and amino acids.1
They can taste the nutrition in the food, which is why they crave the goodness of raw meat and organs.
Our freeze-drying process locks in that natural nutrition and taste, creating lip-licking raw morsels with every bite.
1. Bradshaw, J. W. S. Sensory and experiential factors in the design of foods for domestic dogs and cats. Proceedings of the Nutrition Society 50, 99-106, doi:10.1079/pns19910015 (1991).
A little goes a long way!
Freeze-drying effectively locks in nutrition, with over 98% of the raw nutritional value retained. The process also removes the heavy moisture in the meat, meaning the final product only weighs 20% of its original state!
This means your pal needs a little less Animals Like Us than regular food. You can calculate this using our feeding calculator.
New Zealand natural nutrient-rich sourced ingredients
We start with sourcing fresh raw wholefood ingredients from New Zealand farms, orchards and oceans. Every batch of Animals Like Us is thoroughly tested before it leaves our kitchen to ensure it meets our quality and safety standards.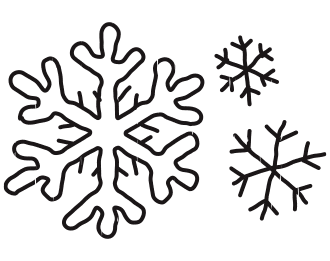 Gently freeze-dried to lock in nutrition and freshness
Our ingredients are flash frozen and placed in a vacuum chamber for freeze-drying. About 90% of the food's moisture is drawn off by evaporating the ice at temperatures as low as -50°C, then it is gently heated (75°C/167°F) for safety, to destroy any pathogens.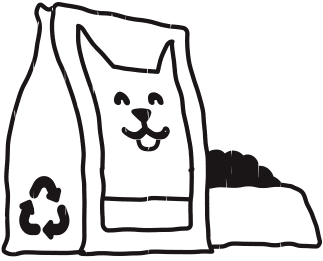 Protected in moisture and oxygen proof packaging
Our freeze-dried ingredients are blended with oven baked bites to create a complete and balanced diet that exceeds the AAFCO nutritional standards. It is packed in moisture and oxygen proof packaging here in New Zealand to ensure freshness until opened.
About ALU
How did Animals Like Us start?
Animals Like Us was launched in October 2020 by Jeremy Moon and Rob Achten. We're a NZ owned and operated company with our headquarters based in sunny Hawke's Bay. We source our ingredients sustainably from around NZ and bring it all together in our factory in Hawkes Bay.
Is your packaging environmentally friendly?
Our product is packaged in a soft plastic bag that protects it from the elements and is easy to open and close. Our packaging is recyclable – click here for information about recycling collection points.
How to feed your dog
How much should I feed my pet?
Please refer to our feeding guideline to calculate the right portion size for your dog
How often should I feed my pet?
You can feed your pet multiple times per day, simply split the amount listed on the feeding guidelines by the number of times you are feeding it.
Can I deviate from the feeding guidelines?
Our feeding guidelines are only estimates based on your pet's life stage and weight; it's important to monitor your pet and ensure it's having a complete and fulfilling meal and hasn't become underweight or overweight.
How do I switch to your food?
It's important to slowly transition your pet from their current diet, as it takes a few days for their gut to adapt to our nutrient rich food. Please follow the transition guide on our packaging or on our website. Please remember, while switching to our food, your pet may experience loose stools – if this happens, it should pass naturally in a day or so.
Should I give water with your food?
Staying hydrated is one of the most crucial components of your dog's health; almost three quarters of your dog's body is composed of water. This is why it's incredibly important that you make fresh clean water available to your dog at all times. You don't need to add it to the food, but you can if you wish.
Can I heat your food?
Heating our food isn't harmful, but it will result in your dog not receiving the health benefits (such as beneficial enzymes) present in raw uncooked food.
Can I feed your food to my puppy or senior dog?
Yes, our food is designed to be a complete and balanced diet for all breeds and all life stages. Please use our feeding guideline to calculate the precise diet for your pet.
Can your food be fed to pets with allergies?
While our food is not specifically formulated for pets with allergies, you may notice that many of the allergens present in commercial kibble or canned pet foods are not present in our food. If your pet is sensitive to allergens, we recommend that you check the ingredient list on the food's packaging first.
What happens if my dog eats Animals Like Us cat food?
If your dog accidently scoffs some Animals Like Us cat food, don't worry! While our cat and dog foods have different make-ups designed for their nutritional needs, bite size and unique tastes, they are not harmful if shared on occasion. Just try keep them away in future!
Our food
Why do we use raw?
Our philosophy mirrors the foods our animals have evolved to eat, incorporating a nourishing balance of fresh raw meat, organs, vegetables & fruits (for fibre) in ratios that deliver nutrients naturally, in highly bio-available forms – so there's no need for long lists of synthetic additives.
What are the key benefits of an Animals Like Us diet?
Palatability: Pets go crazy for our recipes. Independent testing shows best in class palatability in both our cat and dog foods.
Digestive Health: Good news for healthy poos: Our recipes contain probiotics (good bacteria) and prebiotic fibre (feeds good bacteria) which work together to help optimise your pet's digestive health.  This also helps reduce hairballs for our feline friends too!
Skin health & shiny coats: Natural oils and omega fatty acids encourage healthy skin and shiny coat.
Healthy hips & joints: Contains glucosamine which supports healthy hips & joints.
Increased vitality & energy levels: Meat & organs support muscle growth, stamina & vitality.
What is the difference between your cat and dog food?
Our cats and dogs are completely different species, however there is one thing they have in common – a love for real, natural food.  Which is why our food shares the same quality blend of freeze-dried raw meat and high protein baked bites.
What's different? Quite a lot! Our pets have unique tastes, different nutrient profiles and physically different jaws.  Which means a unique formulation, size and taste is necessary to satisfy each pet.
Where is our food made?
Everything we can source in NZ, we do! All the protein is from right here; our lamb, beef, venison and chicken are sourced from ethical kiwi farms, and our salmon is farmed sustainably in Marlborough. Plus, some of our veges, like peas and carrots are also from NZ. We source a small number of ingredients that are not available here, such as minerals and vitamin supplements, internationally, and a few veges like tapioca.
How is our food is made?
We use fresh raw wholefood natural ingredients, which are freeze-dried, then gently heated (75°C/ 167°F) for safety. The innovative process gently removes the moisture and locks in all the nutritional goodness.
Who formulated your recipes?
We worked closely with animal scientists at AgResearch and Massey University who share our philosophy that a natural raw diet is nutritionally superior to a processed diet such as kibble-only.
Is your food nutritionally balanced & complete?
Our RawBlend33 & SuperBlend50 recipes meet and exceed AAFCO requirements for nutritionally complete pet food for all breeds and all life stages.
Why does your food sometimes look different?
Because the ingredients we use are natural, they sometimes differ between batches, lots, or harvests. Think about carrots growing in a home garden – no two are going to be exactly the same. This variation carries over to our food and is a visual indication of how natural our food is.
What are the benefits of freeze-dried food?
Freeze-drying allows many of the vitamins and minerals present in raw food to be preserved, meaning that a pet can receive nutritional benefits from them as they would in the wild. The flavour of raw meat is also preserved in the freeze-drying process, which makes it highly appealing to animals, as they are biologically wired to love that taste. Finally, freeze-dried food is convenient to serve; it does not have to be refrigerated or frozen to maintain its quality and flavour.
Why does your product contain organ meat?
Organ meats are packed with nutrients such as Vitamin D (essential for immune systems), omega fatty acids (which support long and healthy lives), B vitamins and folic acid. They are also a good source of minerals, like phosphorus, iron, copper, magnesium and iodine and are highly appealing to animal tastebuds.
Does your food contain GMOs, grains or hormones?
Our food does not contain GMOs, added grains, added sugars, added glycerin, growth promotants, or hormones.
Our products
What is RawBlend33?
RawBlend33 is our original blend of 1/3 raw freeze-dried NZ meat & organs combined with 2/3 high protein oven baked meat and vege bites coated with probiotics. It's our cat and dog supermarket range, available in three flavours for dog and two flavours for cat.
What is SuperBlend50?
SuperBlend50 is a tasty blend of 50% raw freeze-dried NZ meat & organs combined with 50% high protein oven-baked meat and vege bites coated with probiotics. It's our specialty pet store range available in three flavours for both cats and dogs. 
Your Dog SuperBlend50 also adds superfoods. What do you use and why? 
Green-lipped mussels: a source of glucosamine which supports hips and joints
Flaxseeds: a source of Omega 3&6 which helps support skin health and shiny coats as well as general health
Kelp and Blueberries: high in antioxidants which help fight against disease causing free radicals. Kelp is also an excellent source of minerals – iodine, potassium, magnesium, iron and calcium as well as a source of fibre for digestive health. Using these superfoods enables us to achieve healthy levels above the minimum AAFCO requirements.
What is a Meal Mixer?
A Meal Mixer (also known as a Topper or Booster) is added to your dog's regular diet to give it a boost of taste and nutrition. It's 100% raw freeze-dried meat, organs and superfoods. High in protein. Your dogs will love their regular food with an Animals Like Us Meal Mixer sprinkled over the top.
What are Natural Health Treats?
Natural health treats are 100% New Zealand raw freeze-dried organ meat and are designed to be used for training or snacks. Because they are organ meat – dogs go mental for them.
Safety
Is raw food really good for animals?
Your pet evolved from the wild and they're designed to eat that way, which is why we use premium New Zealand fish, meat & organs.  The raw ingredients we use are first grade human quality meat, wagyu, heart, liver, tripe, chicken and fish. It's higher in protein and essential nutrients, and lower in carbs. Our raw product is freeze-dried, meaning we can offer the nutritional benefits of raw food in a safe and convenient way.
Is your raw freeze-dried food safe?
Yes, we use fresh raw wholefood natural ingredients, which are freeze-dried, then gently heated (75°C/ 167°F) to kill any nasty pathogens and ensure its safe for your pet to eat.
How should I handle your food?
When you're done feeding your pet, as with any raw meat, ensure that you wash your hands and surfaces thoroughly. We also recommend keeping our food separate from any other food.
How should I store your food?
To maintain our food's freshness and quality, we recommend that it is stored away from sunlight and kept air-tight once opened. It isn't necessary to store the food in a refrigerator.
Support
If you have any problems with your food or additional comments or questions?
Please contact us at hello@animalslikeus.com